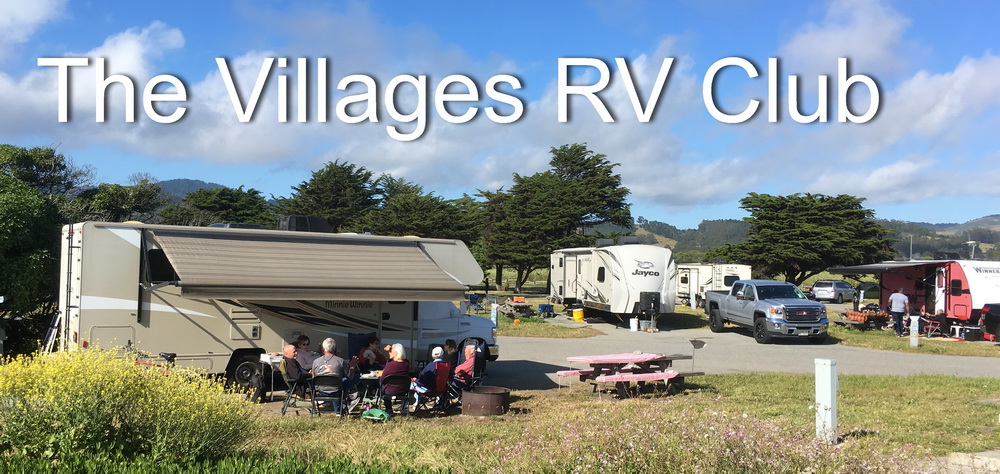 Welcome to the Villages RV Club in San Jose, California. Join us for lots of fun at our next club outing! We're open to a variety of activites with friends.... sightseeing, hiking, nature walks, restaurants, bike rides, wine tasting, card games, campfires, happy hours. What are your interests to share with the group?
Upcoming Outings:
3 nights Pescadero, Thursday, November 7->11, Costanoa/KOA campgrounds We will be joining up with Pioneer RV Club for this outing. Make reservations through the Pioner Club Wagonmaster. Roger Silva. 408-568-8837 https://koa.com/campgrounds/santa-cruz-north/
RV Holiday Brunch
What: Annual RV club meeting:
When: Saturday, Dec. 14, 2019
Time: 9:00 A.M. - 12:00 P.M.
Where: The Vineyard Center
Dress Code: PJs, sweats, whatever!
Menu: Catered by the House of Bagels (lots of coffee!)
Menu: (We'll have OJ if you want a mimosa but BYOB. The rule on Alcohol has changed again. BYOB is okay but "Alcohol provided or donated for a paid event must have an employee bartender"), Martinelli's Cider, Bagels and cream cheese, tabouli, zucchini frittata, mushrooms stuffed with cream cheese and chives, spinach quiche, Nova lox and veggies, seasonal fruit, coffee/tea. YUM!!!!
Don't miss out.
Please reserve your spot no later than: December 2, 2019
Cost: Members $10. per person, Guests: $15. per person
Money/checks: send to Mary Jo Lyons: 7506 Deveron Court.
It would be helpful if you are planning to attend to send an RSVP to George - vgccrvclub@ gmail.com.
Want more club info? Call president George Muller at 408 -238- 7393 or email vgccrvclub@ gmail.com with questions. Club application form is HERE.
Here are photos from some of our outings:
RV club outing at Casini Ranch on the Russian River
Pinecrest Lake hike
Local restaurant in Princeton near Half Moon Bay
Happy hour at Casini Ranch on the Russian River
Bodega Bay nature trails
Sightseeing at Railtown 1897 State Park in Jamestown
Covered RV parking here at The Villages